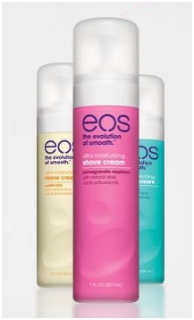 I sincerely look forward to Fall for three reasons and three reasons only. First, going back to school means going school supplies shopping, which has long been one of my favorite retail events of the year. Second, the gorgeous auburn, red, gold, and beautiful pink colors of the leaves do really cheer me up even as the temperature begins to sneak stealthily down. Third, it means I can stop shaving every day.
Its not like I don't like wonderfully smooth legs. I do. In the summer time, I'm diligent about keeping my gams touchable and soft. But Autumn means I can relax a little. Wooly tights and deep, indigo-shaded jeans mean that I can be slightly less rigorous in my regimen.  Its not that shaving is such a pain per se, it's just that eco-friendly shaving creams generally leave something to be desired. Okay, a lot of something.
The ones I've tried are always at least two of the following things: watery, muddy, smelly, expensive. Thanks, but no thanks. That is until I tried eos ultra moisturizing shave cream. Both paraben and cruelty-free, eos certainly lives up to its name: The Evolution of Smooth. It left my legs silky, soft, and ready to enjoy the last few days of summer! And who knows? With eos staking a claim on my shower shelf, I might just start making my summer shaving schedule, a year-round system.
Digg It!
Add to del.icio.us
Stumble This
Natural Blitz: eos Shave Cream