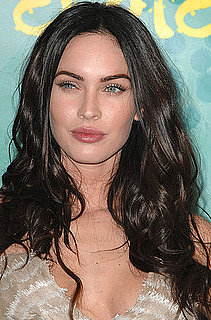 Megan Fox continuously looks like she just wandered out of a lazily delicious scene in a Fellini movie lately, and while Transformers may not exactly be a work of the Italian master, her hair is certainly a masterpiece on its own merit. The stylist who created the look, Renato Campora, says Megan's a natural beauty, so he worked with her own texture and kept her hair down. He did, however, add a little twist of his own. "The Teen Choice Awards is always a fun event," he says. "I wanted to create a young, tousled, sexy and soft look to match." For step-by-step directions on how Renato gave Megan these gorgeous pre-Raphaelite curls, read more.
While your hair is still damp, put a golf ball size puff of volumizing mousse, like Fekkai Full Volume Mousse ($20), through for texture and hold.
Let your hair air dry, lifting it periodically with your fingers to separate the strands.
Use a one-inch curling iron, like this Conair Instant Heat model ($14) to make long, soft waves.
Spritz a lightweight shine spray, like Got 2b Dazzling Shine Spray ($6), on the body and ends, then finish with a strong hairspray to maintain the look.
Digg It!
Add to del.icio.us
Stumble This
How to: Megan Fox's Femme Fatale Style