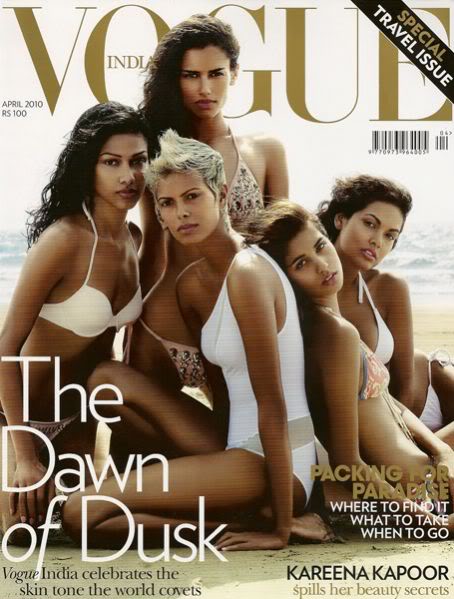 Vogue India's April cover featuring five darker skinned models is meant to tackle the stigma surrounding darker skin color in the country. Gia Johnson, Nethra Raghuraman, Tinu Verghis, Ashika Pratt and Esha Gupta posed in bikinis for the "Dawn Of Dusk" spread.
The editorial reads:
"Every generation has its share of beauty myths. Perhaps it is time to bust this one. Time to say that as a magazine we love, and always have loved, the gorgeous colour of Indian skin...dark, dusky, bronze, golden--whatever you call it, we love it."
Fuelled by the appearance of light-skinned Bollywood stars and models, the demand for skin-whitening creams - from brands including L'Oreal and Unilever - grew 18 per cent last year and is set to increase by a predicted 25 per cent this year, the Times reports. The Vogue cover has been praised by the country's fashion insiders for addressing the issue in a positive way.
"Skin colour matters a lot for women in India," Nirupama Singh, an expert on the sociology of fashion told the Times. "Fairness is a very valuable thing here, looked on as desirable. The fashion world can be a big agent for change in this area."
Digg It!
Add to del.icio.us
Stumble This
Vogue India Dispels Dark Skin Stigma