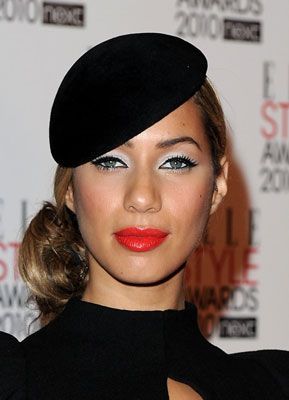 Leona Lewis has really amped up her look as of late, and her appearance at the Elle Style Awards showcased a cool vintagey style. To re-create a throwback look of your own without looking like you're headed to a costume party, don't go for a literal look. Think retro-inspired instead. Check out some of my tips:
    * Modern color: While Leona's bright red lipstick has an Old Hollywood appeal, using an of-the-moment bold coral, the palette suddenly feels fresh and new.
    * Modern touches: The key is to add your own modern touches and techniques by doing something unexpected, such as pairing a notice-me lipstick with a contrasting light shadow. Play down the rest of the look with a pretty pink blush and some standard black liner.
    * Tone it down: Notice how Leona's lightly-tossed-to the side pony gives the look a less-structured feel. Fingerwaves and highly styled looks can work, but a more casual approach will keep you from looking like a Douglas Sirk character.
Digg It!
Add to del.icio.us
Stumble This
Retor Styling