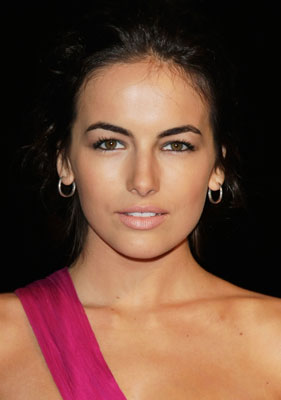 You don't have to look like you've just come down with an illness in order to rock a nude lipstick. The trick to wearing this neutral tone is to actually think subtle touches of color, in lieu of taking the term "nude" literally. From beige to mocha to sheer washes of pink, a nude-toned lip can be quite flattering, especially when coupled with a smoky eye. Take Camilla Belle, for instance, who opted for a pretty pale pink lip paired with dark liner, soft shadow, and a pop of pink blush at the
Father of Invention
premiere at the 2010 Berlin Film Festival. Find out a few tips for going nude without the chalky effects when you read more.
Choosing a color for your skin tone
:
For fair or pale skin: With lighter skin tones, avoid beige lipsticks, which will just wash you out. Instead, look to pink, peach, or pale apricot as your base shade. Tip: apply a lip liner in a color one shade darker than your natural tone to give your nude tone a brightened effect.
For the golden girls: If you've got lots of golden undertones in your skin, go for creamy, caramel-toned nudes and warm beiges. Avoid anything too cool, like grays or silver-toned shades.
For olive tones: If you've got olive skin, you're a lucky gal. Just about any nude shade will look great on you from beige to bronze to pinks.
For skin with yellow undertones: Think light, creamy-toned beiges like latte or mocha.
For dark-toned skin: Go for chocolate tones such as rich golden browns and coffees.
Other things to consider:
Exfoliate the lips before applying a nude tone to create a smooth surface.
Afraid of going too matte? Consider wearing a semimatte lipstick for a slightly glossy finish.
For the cheeks, first dust on a tawny bronzer and then add a pink or peach cream blush to brighten the face.
When going for a matte version of a nude-toned lip, try a matte foundation to create a cohesive look.
If a chocolate-brown or smoldering gray-toned smoky eye isn't your thing, try a black eyeliner with light shadow instead. Play up your eyes even more by creating emphasis on the brows — a very Camilla Belle kind of thing to do.
By all means . . . avoid frosty finishes.
Digg It!
Add to del.icio.us
Stumble This
A Nude Lip for all skin tones?