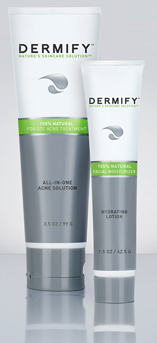 Ten years ago, eco-friendly cosmetics were difficult to track down, and the ones you could find were often just so-so. Times have changed, and as the number of natural beauty treatments grows, so does their effectiveness. So with the launch of
Dermify
($19.95-39.95), a new natural anti-acne treatment, I was curious to see if it could tackle the zit factory that is my chin.
Dermify uses organic plant extracts and other natural ingredients, and it's free of parabens, soaps, sulfates, petrochemicals — and traditional acne fighters such as benzoyl peroxide and salicylic acid. Its active ingredient is sulfur, which encourages skin to lose its dead skin cells. I've been using Dermify for just over a month, so for my thoughts, keep reading.
There isn't any elaborate process with this product. Instead, you're supposed to wash your face with the clay-based cleanser for one minute before washing it off. Then, once to three times a week, you use a thin layer of it as a mask.
I've never used a clay-based cleanser, so washing with Dermify was a new experience. I like how it very gently exfoliates without feeling abrasive at all. The only drawback is that, as is the case with just about any treatment with sulfur, it gives off a mild sulfuric scent. It doesn't smell awful, but it isn't flowery like a lot of cleansers, either. After washing, my face generally feels clean, smooth, and ever-so-slightly slightly dry — just enough to require a light moisturizer. (It's important to rinse the heck out of your face, though, and to keep the cleanser away from the delicate eye area.) When used as a mask, Dermify temporarily made my face red, but I definitely saw cleaner pores afterward. Both as a mask and a cleanser, a little goes a long way.
After using Dermify for the last month, I'm pleased to report fewer breakouts. The pimples that do spring up are smaller, and most impressively, the world's biggest blob of cystic acne has been slowly but surely shrinking from my chin. (Full disclosure: I've also eliminated dairy from my diet, so that may have an effect, too.) Aside from mild redness with the mask, my skin hasn't been irritated, overly dry, or otherwise "angry" like it can be when treated with benzoyl peroxide. Overall, I like using an effective product that isn't packed with synthetic chemicals. If you've been disappointed by "green" skin care that hasn't improved your acne, Dermify might be worth a try.
Digg It!
Add to del.icio.us
Stumble This
Can a Natural Acne Cure Work? Let's Find Out.