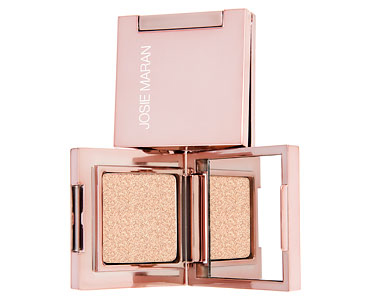 Some products are now gladly boasting they're paraben free, but what's all the fuss?? Parabens are preservatives used in a range of beauty products and even food. What makes them questionable are their links to breast cancer and the fact that methylparabens can possibly increase UV-induced damage. While they're not going to instantly give you cancer and they've been deemed safe enough to be widely used, I'm still trying to lower my exposure to them.
My favorite eyeshadow of all time is Stila Kitten! I still love it, but I'm not crazy over the paraben factor - methlyparaben and propylparaben to be exact. I'm not going to throw it in the trash, but I definitely wanted to find a great paraben-free alternative.
I didn't think anything could match the shimmer or the creamy yet powdery texture. But I stumbled upon Josie Maran's eyeshadow in Sweetheart and I have to say it's not exact, but it's pretty damn close! The color is less pink, but I like the slight more beige color. As far as texture goes it's so velvety and glides on great and it blends with other colors so perfectly! It has that great radiant color and it's a makeup bag staple for me!
Stay tuned for more great beauty finds that are paraben free!
Digg It!
Add to del.icio.us
Stumble This
Paraben Free: Josie Maran Eyeshadow