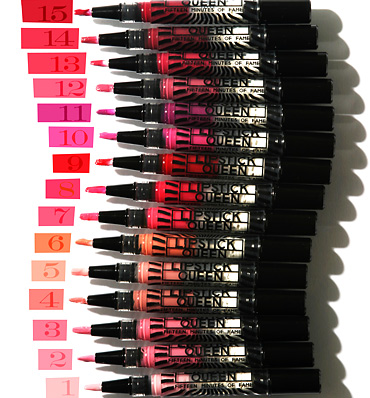 Poppy King has been committed to making unique lipstick for almost two decades, and she personally is know for her Red Sinner lips!
She's taken her great use of pigments and, after much resistance, finally launched a line of lipgloss! The Fifteen Minutes of Fame Pop Art Gloss is all pigment without the glitter and shimmer. They were inspired by the Pop Art movement and Andy Warhol's famous quote, "In the future everyone will be world-famous for 15 minutes."
Each minute is represented with a rich, creamy color that ranges from the lightest shade at one minute all the way to the darkest shade at 15 minutes. We're loving the pure color without the shimmer! Minute Three and Eleven are our faves so far!
Digg It!
Add to del.icio.us
Stumble This
Lipgloss from a Lipstick Queen?